Called to Lead
Welcome to Assumption College
Assumption is an all-women's school. It is committed to academic excellence, social responsibility, faith and spirituality in the Philippines that offers single gender education from Kinder to College.
Learning in an all-women's college is a GAME CHANGER.
It gives young women a solid inner core of SELF-CONFIDENCE. This makes all the difference at work and in their relationships. Young women find their VOICE in Assumption so they can speak up and be heard. They do so with wisdom and kindness. When they graduate, they will be CALLED to LEAD and they will be ready.
They will ask the right questions, participate in teams, they will be creative and innovative in their solutions because our new special "ECOLOGY OF LEARNING" called "ABLe" prepares them for these tasks.
For over a hundred years it has been proven that Assumption students CREATE LIFELONG FRIENDS. They support each other's careers, their relationships and always with a heart and mind ready to serve God and their country.
Assumption students are: "WOMEN OF FAITH, WOMEN OF ACTION" (St. Marie Eugenie, r.a.)

Higher Education Division
Online Open House
The Assumption College Open House has gone virtual and in case you missed it, you can still experience it through our dedicated website!
Get information on our curriculum, explore courses and decide your major, learn more about our admission requirements, and have a go at our virtual tour, all in the comfort of your home.
See you online!
#ACOpenHouse2021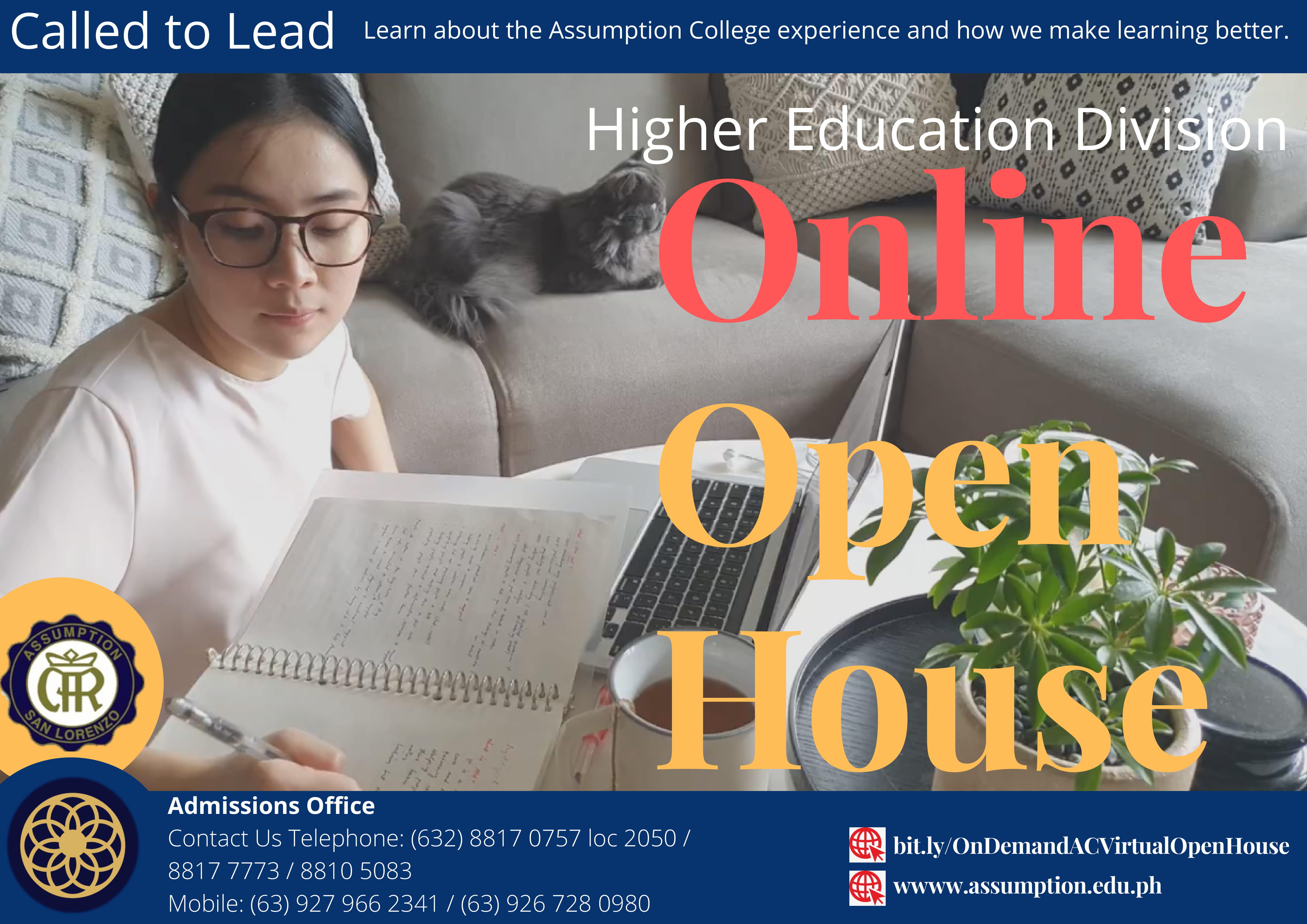 Get ready to experience Assumption College— live! Take a seat and put on your headphones because the College Open House is going virtual for the first time!
Save the date! February 27, Saturday. Join us for the first Assumption College Virtual Open House. We have a host of online activities planned that's just as interactive as it would be in person! So REGISTER NOW at

http://bit.ly/ACOpenHouse2021

​

. The first 100 registrants will receive a personalized gift! Questions about the Virtual Open House? Contact us at 63927.966.2341 / 63926.728 0980. See you online!