About AC > President's Corner
Biography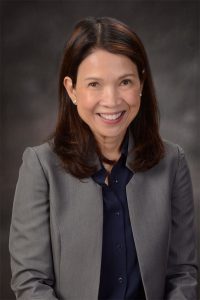 Dr. Angela V. Regala is the 10th President of the Assumption College, and only the 2nd lay alumna to lead the college.
Dr. Regala is currently VP/College Dean and the Dean of the Graduate School of Assumption College. Before being appointed as VP/College Dean she served as Associate Dean of the Marie Eugenie School of Innovative Learning (MESIL) and chairperson of the Psychology Department. As a long-term chairperson of the Psychology Department, she reestablished the AB Psychology program and introduced the BS Psychology program to cater to students who are interested in pursuing degrees in medicine and allied health sciences.
She earned her PhD in Counseling Psychology, Major in Clinical Counseling (with Distinction) from De La Salle University and an MA in Developmental Psychology (with Distinction) from San Francisco State University, California. She obtained her Psychology degree (with Honors) from Mills College, California. She graduated from Assumption High School in 1979.  She started teaching in Assumption in 1993.
Dr. Regala currently has 25 years of professional practice. She is a PAP Certified Specialist in Clinical Psychology and Counseling Psychology, licensed Psychometrician and a licensed Psychologist. She is former president of the Psychological Association of the Philippines (2014-2016) and former member of the Continuing Professional Development (CPD) Council for Psychologists, Professional Regulation Commission (PRC). She is also a member of the American Psychological Association (APA).
As a Registered Guidance Counselor, she is a member of the Philippine Guidance and Counseling Association (PGCA).  Her professional expertise and compassionate volunteerism were integral in setting up the Counseling and Assessment Services at Assumption (CASA). She meets private clients, primarily young and middle-aged adults, for psychotherapy.  Her past and current socio-civic involvement include providing psychosocial intervention for disaster victims. Most recently these include the Katatagan Kontra Droga sa Komunidad (KKDK) and the Katatagan Resilience Modules (Covid 19).
She is also a former barangay captain of Barangay Urdaneta in Makati where she served for 11 years (2002 – 2013).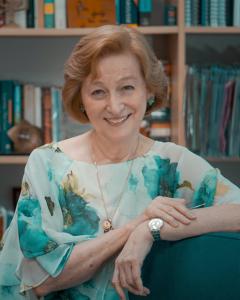 Carmen "Pinky" Valdés, PhD Carmen "Pinky" Valdés, PhD is the first lay president of Assumption College, San Lorenzo. She has an extensive background in Spirituality, Education, Corporate Executive and Family Counseling, facilitation of transformational leadership training programs. She was the former dean of Assumption College Marie Eugenie School of Innovative Learning, creative director of Marie Eugenie Theater of the Assumption (METTA) and adjunct professor at Loyola School of Theology (LST) Ateneo, and a Theology professor at the Ateneo de Manila University (ADMU).
She holds two Master's Degrees: one in Educational Management from De La Salle University Manila, and another in Theology from University of San Francisco. She completed her Doctorate in Philosophy from GTU/UC Berkeley, California. She is the first awardee of the Bravo Empowered Women for Education in recognition of her unwavering commitment to leadership and service. She was also awarded the Speaker of the Year Award by Makati Rotary. She was one of the first two to receive the International Marie Eugenie Award at the Sala Nervi in Vatican, Rome.
She has two Platinum Awards from PARI for music composed with Mr. Jose Mari Chan and has three CDs of her own music: I See the Dawn, Sandalwood and Sandalwood Seasons. She was also awarded a Professorial Chair by Loyola School of Theology, Ateneo de Manila University.
About AC, Biography, President's Corner