AC Campus Online > Announcements
Higher Education
Posted November 11, 2022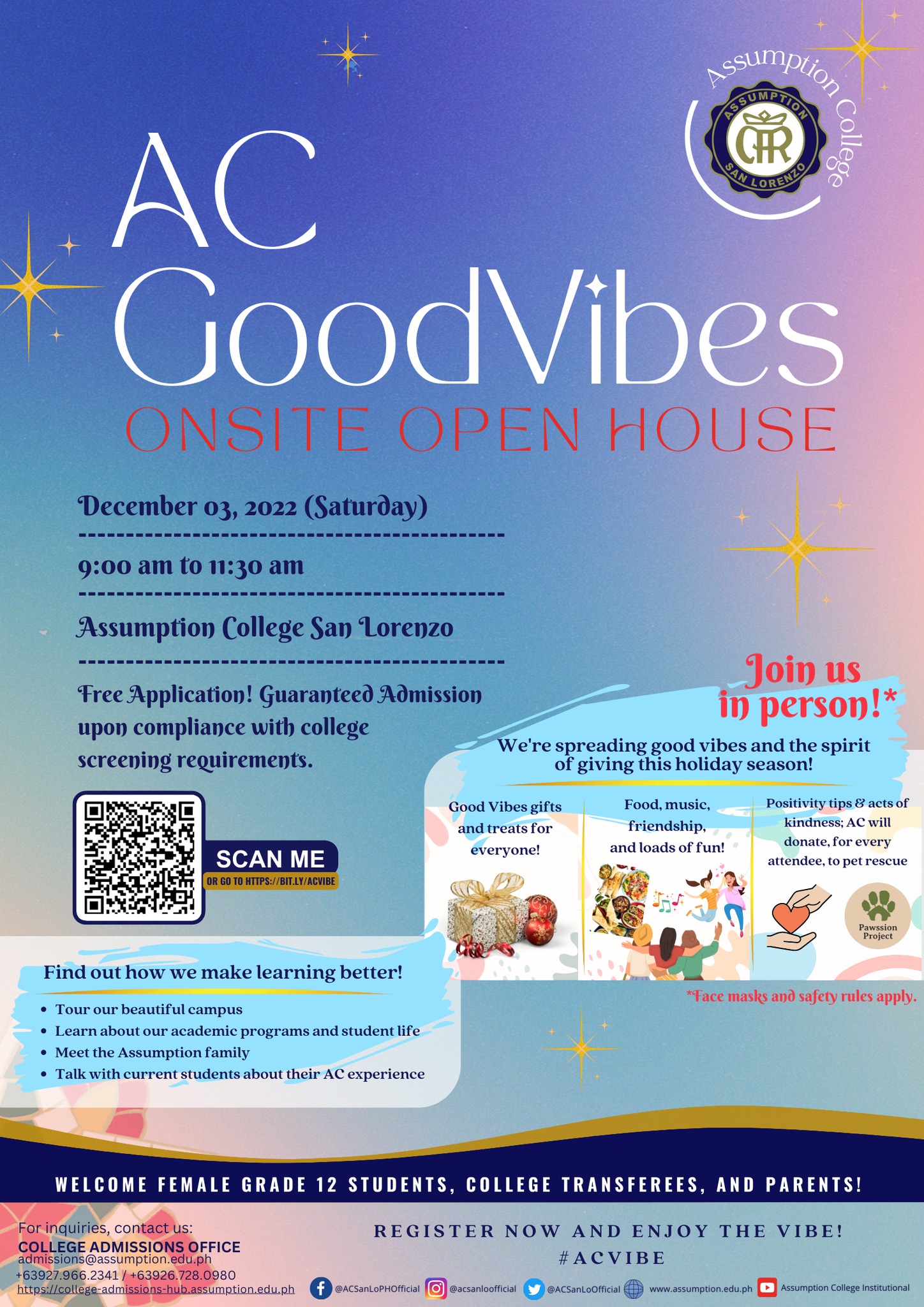 After 2 years of Virtual Open House events, Assumption College is finally opening its home once again for its much-awaited ONSITE OPEN HOUSE!
#GoodVibes
Only
The Assumption College (AC) family invites you to a day of good vibes — of conversations, leisure, friendship and fun. A day of letting you experience your future college life in AC, the Assumptionista way.
Experience the
#ACVibe
as we bond with you and share in your dreams and aspirations on December 3, 2022, Saturday, 9:00 AM.
Grab this opportunity to get a feel of the environment of our College. Experience our
#SaferSpace
campus, take a look around at the classrooms and its HyFlex Learning setup, and explore our many facilities. Get to know your future professors and ask them questions about your preferred course and department. Meet with the Admissions team and seek advice on college applications. Spend time with our current students, ask about their student life in AC and earn a Big Sister in the process— something that is unique only to our Open House attendees.
Music and dance performances, activities, campus tour, raffle prizes and special gifts await!
We're making our guest list and checking it twice — were certain you'll find our tribe quite nice! So join the AC family this giving-inspired gathering this holiday season! With your attendance at the
#ACVibe
Open House comes a special opportunity to be a blessing to animals through Pawssion Project! There is something about giving, after all, and there is nothing more fulfilling than to be a blessing this season.
So find your tribe and experience good vibes only here at Assumption College!
For more information, visit our Virtual Admissions Hub or contact any of our Admissions Officers:
https://college-admissions-hub.assumption.edu.ph/
+63 927 966 2341
+63 926 728 0980
admissions@assumption.edu.ph
Assumption College San Lorenzo, 21 San Lorenzo Drive, San Lorenzo Village, Makati City
______________________________________________________________________________________

Posted: October 19, 2022


Realizing one's self at her best is truly an Assumption gift. The Assumption family congratulates award-winning filmmaker and Assumption alumna, Ramona Diaz!
Her 2020 documentary, A Thousand Cuts, won Outstanding Social Issue Documentary at the 43rd News and Documentary Emmy Awards last September 28-29, 2022, in New York City.
Congratulations on this milestone, Ramona! Your Assumption family is immensely proud of you!
______________________________________________________________________
Aside from winning the prestigious Emmy, A Thousand Cuts has also received a Peabody Award under the Documentary category from the prestigious George Foster Peabody Award last June 2022.
Spirits Rising. Imelda. These are just some of the notable documentaries crafted by award-winning Filipino-American filmmaker, Ramona Diaz. Having premiered at the prestigious Sundance, Tribeca, and the Berlinale film festivals, to name a few, Ramona Diaz has become a household name in the film industry. Her talent, cinematic aesthetic, and compelling storytelling have earned her not only prestigious awards, a Guggenheim Fellowship, a Peabody Award, and now, an Emmy; but also, a formidable influence in the world of Arts.
_________________________________________________________________________________________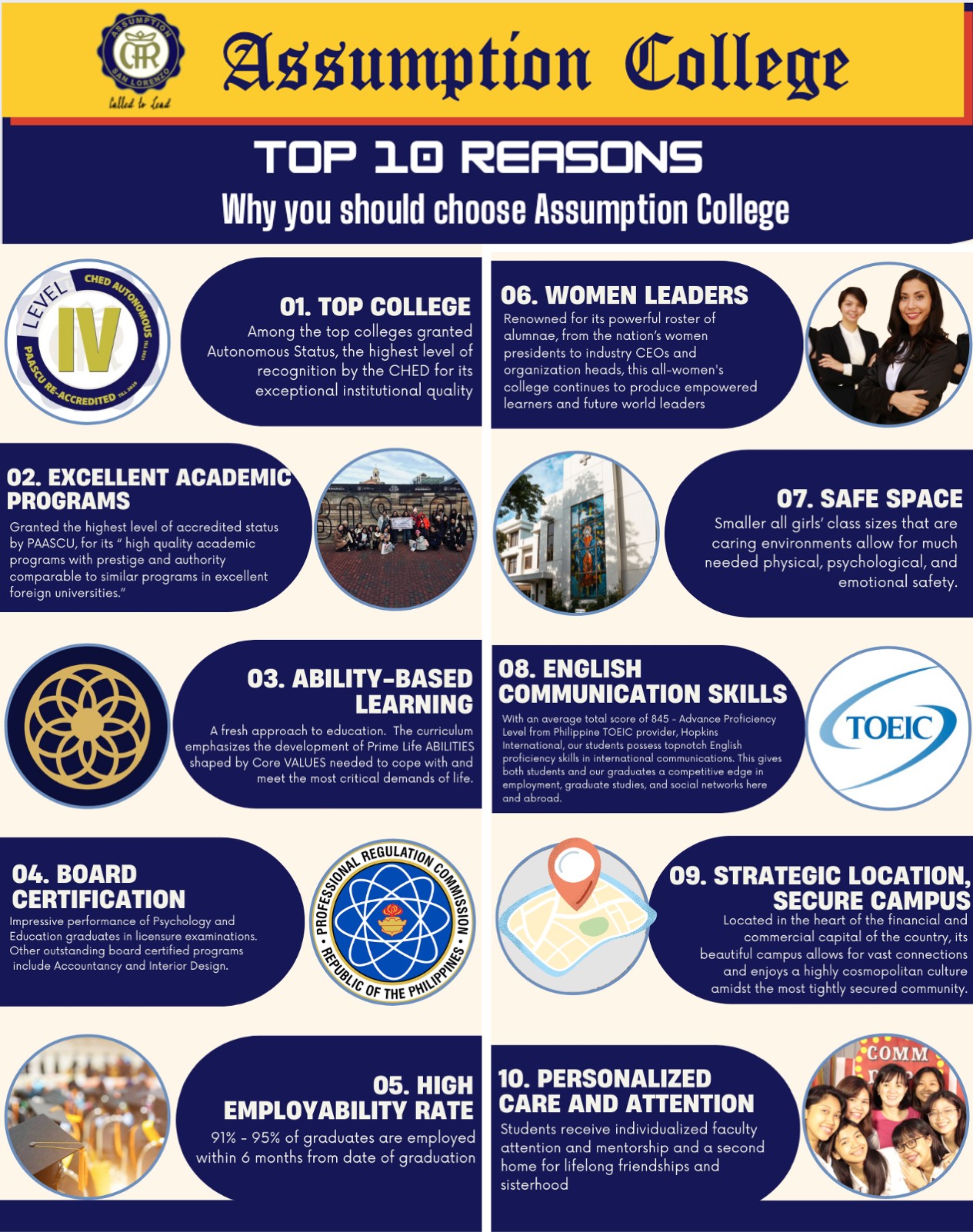 You have concerns, perhaps you are worried. Despite these trying times, Assumption College Makati will continue to be of service. Don't hesitate to send us a message and allow us to assist you and respond to your needs.
read more