Editorial
Assumption President promotes confidence-building, leadership, and the balanced use of social media
Featured at Philippine Daily Inquirer (World Section)
October 12, 2016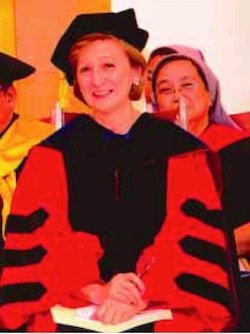 Assumption College's new president, Dr. Carmen "Pinky" Valdes, wants to lead the youth by understanding their language and deconstructing their link to social media
There is no shortage on articles about the significant negative effects of the heavy use of electronic media. But here comes a leader, with a fresh take on things, who capitalizes on the goodness of social media.
Dr. Carmen "Pinky" Valdes, the 9th and first lay President of The Assumption College, said during her investiture speech that "a woman leader in the threshold of an axial stage should be a mystic-one who sees the world with different eyes." Pinky wants to lead the young women of the Assumption by opening them up to different perspectives, starting with the central identifier of their generation, social media.
Read more on: https://www.pressreader.com/philippines/philippine-daily-inquirer/201610…
Editorial, President's Corner
Dr. Angela Fabiola Regala officially took her Oath as the 10th President of Assumption College during her Investiture Ceremony held last August 26, 2020. At the momentous event, this was speech she gave.