Editorial
Dr Angela Fabiola Regala's Speech At Her Investiture as the 10th President of Assumption College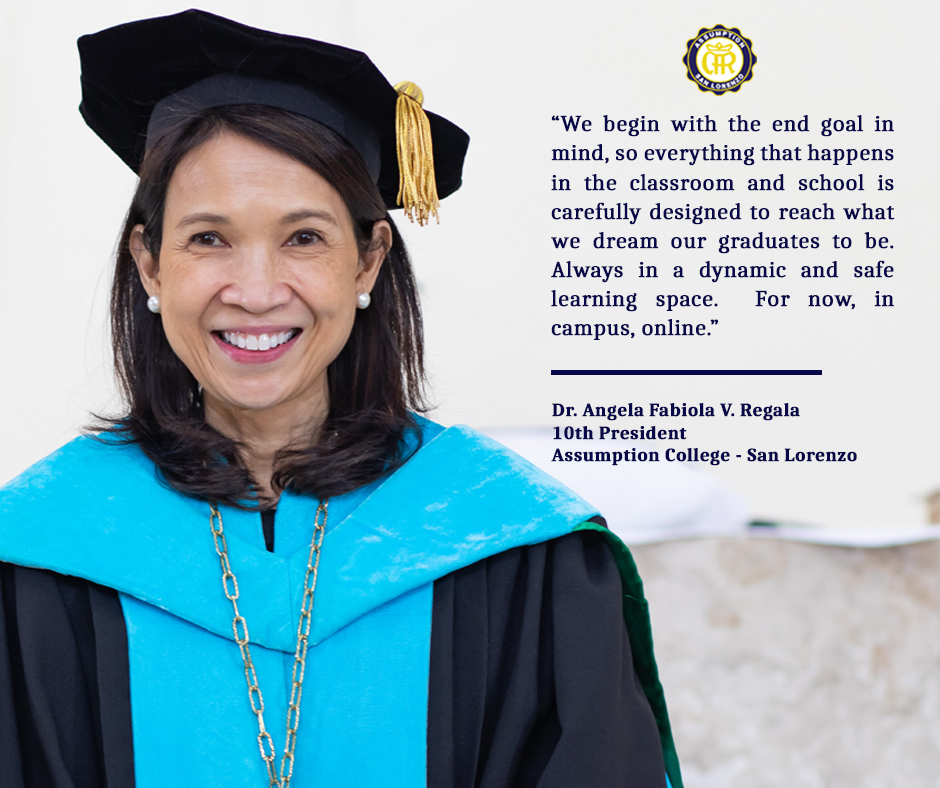 Good morning Sr. Lerma Victoria, Dr. Pinky Valdes & Past Presidents of Assumption College, Atty Sabino Padilla III, BOT members, Ambassador Laura Quiambao-del Rosario, President of Miriam College, Sr. Christine Pinto, President of St. Scholastica's College, Dr. Clarissa Velayo president of the AAA, Sr. Fe Beltran, Superior of Emaus, Sr. Jo Concepcion, Superior of CANA, the religious of the Assumption, Sr. MIgs, Dr. Maita Ladrido, Dr. Joy Nera, Ms. Mely Diaz, co- PC members, my BED, SHS, HED & CSD family, Parents, Students, Alumnae, the Assumption San Lorenzo community, my family and friends, and friends who are family.
Warm greetings also to my class and Batch 79, and all who are watching online.
Special greetings to my parents who wanted to be here today. They are in their 90's and are viewing this from home. They were so excited that they invited their close friends and our relatives to watch – it is very much possible that at least half of those watching this morning were invited by them. Hi mom and dad!
Just last week, classes for SY 2020 – 2021 began… online. As my usual tradition on the first day of class, I walked through the hallways where the college classrooms are located and something seemed really off – it took me a second to realize it was too quiet. There were no students' voices asking their friends what they did during their vacations; no teacher calling out attendance; no one running to their classroom to make it to class on time. It was just empty and mute. It has been so since March.
March is a special month for the Assumption Community. This is the month when we celebrate the Feast of our Foundress, St. Marie Eugenie. Last March, however, the World Health Organization declared that COVID-19 was a pandemic. Immediately after that, the Philippine government would mandate the first of a series of lockdowns in the whole of Luzon.
Today, going on our 6th month of lockdown, there are many things the world health authorities still do not know about this pandemic, but it has been made clear to all of us that this COVID-19 virus does not discriminate. Everyone in the world is at risk, especially the health front-liners who are exposed to it for prolonged periods. There is as of yet No vaccine, and should there be one, it will not likely be available till 14 months from now. There is No returning to normal.
Indeed, it can be said that these are NOT the best of times. This morning, however, please allow me to present a short historical background.
Volatile and uncertain times are not new to the Assumption. In the 19th century, when St. Marie Eugenie founded the congregation, it was a time in search of balance. To quote a former superior general, Hélène-Marie Bories' comprehensive history of the first Religious of the Assumption:
In France, as in much of Europe, the 19th century saw great revolutionary upheavals, as the nation passed from being a republic to an empire to a restored monarchy to a second republic to a second empire and then back to a republic once more in a span of less than one hundred years. A century of great extremes of hope and despair, violence, and romanticism, it was the era of inventions. In the middle and later years of the century, the steam engine was accelerating the industrialization of Europe and widening the gap between the social classes. In addition, as Europe became more industrialized and less agrarian, the exploitation of women and children was becoming more and more a fact of life.
Sister Hélène-Marie Bories also recounted that in 1854, the congregation had to face a violent cholera epidemic. This was the same disease that took the life of St. Marie Eugenie's mother in 1832. Between 1857 to 1866, they had to deal with that great killer of the 19th century – tuberculosis. Tuberculosis, at that time, was incurable; the victims had simply to wait, in great pain, for the release of death. In 1870, they suffered through the dark days of the Franco-Prussian War, which later led to a civil war.
Those did not seem like the best of times either.
I think what is more crucial at this point is how WE respond to the times. St. Marie Eugenie loved the times in which she lived and sought to understand their pursuits, problems, and conflicts in the light of the gospel (Bories,1992). She demonstrated her concern for integrity of action, for concerted effort, as well as for an awareness of the need for change. St. Marie Eugenie chose EDUCATION as her response to the challenges of her time. She believed it was within the capacity of women to bring about the needed transformation. For St Marie Eugenie, the goal of education is that, once they have gone out into the world, they should be Christian women who can carry Christian ideas, thoughts, and practices into the midst of their families and society.
We can do nothing less.
I am a psychologist by training– a discipline focused on helping others. We promote the well-being and personal development of others by seeking to understand and explain thoughts, feelings, emotions, and behavior. We help people learn to cope with stressful situations and life issues. Carl Rogers, one of the founders of the humanistic approach to psychology, said, "When I look at the world, I'm pessimistic, BUT when I look at people, I am optimistic."
During times like these, it is so easy to feel doubtful and discouraged about our current reality. News reports are filled with stories about injustice, despair, uncertainty, violence, and inequality. The Philippines just posted its worst quarterly economic performance on record, with the economy shrinking 16.5% in the three months to the end of June compared to robust growth of 5.4% for the same period last year. A record high unemployment rate of 17.7 % as of June. 85% of us remain worried about the virus. Moreover, for 83% of Filipinos, life has taken a turn for the worse. Social media, where most young people, like our students get their news, are likewise inundated with negative feeds and fake news. The world is portrayed as a terrible place.
However, there are many other stories out there – focused on people who give selflessly of themselves. There are the front liners who risk their lives EVERY DAY to do their life-giving work. Many individuals have made varied and generous contributions (and continue to do so) to their community, to society. This includes our very own Assumption family: those we work with, our students, parents, alumnae, and friends of alumnae. They serve as an inspiration and a source of hope to all of us.
During this time, we need to look beyond and outside the box. Rogers' contemporary, Abraham Maslow said, "I suppose it is tempting, if the only tool you have is a hammer, to treat everything as if it were a nail."
Let us take this time to respond proactively, review that which will no longer work, and reimagine the new reality. When our regular tools do not work or appear irrelevant and obsolete, we can seek or make new tools. Learn new ways of thinking, communicating, and doing. Extraordinary times demand extraordinary measures.
The lockdown effectively suspended all face to face classes, and all schools, ours included, had to switch to online learning. We took on the challenge we were faced with and worked on providing educational continuity for our students under these unprecedented circumstances. We were constantly adjusting our responses to meet best the needs of our students, who were also new to this mode of learning.
We were hoping that the quarantine would end and things would be close to normal before this new school year began. However, the uncertainty remained. Without delay, we started planning on how best to respond to the new reality of the coming school year.
Our educators have worked hard for months to put the response plan in place and enhance our new mode of learning – online learning – so that your daughters will receive the Assumption Education they deserve and which you expect – an education that develops each person's talents and gifts and used for the service of others.
These are challenging but exciting times. Assumption College will continue to provide a robust academic program, a solid Catholic foundation and sound values, a strong character formation program, and a comprehensive support system through its Guidance Centers. In a world where there are ambiguity, increasingly mixed messages, and disinformation, a sound foundation is essential in reinforcing the guiding principles your daughters will need.
We will stay true to the three pillars of Assumption Education: Academic excellence for service, Faith & spirituality formation, and social responsibility. Abilities-based learning is the vehicle that facilitates reaching this goal; developing the eight prime abilities: Critical Thinking & Discernment, Communication, Collaboration, Creativity, Leadership, Empathy, National & Global Citizenship, and Self-direction – all these in-formed by our Assumption core values: awareness, commitment, kindness, simplicity, humility, integrity, oneness, and nature.
All these are consciously and carefully integrated into classroom opportunities, student activities, student organizations – the total school experience by the Assumption Educators. We begin with the end goal in mind, so everything that happens in the classroom and school is carefully designed to reach what we dream our graduates to be. Always in a dynamic and safe learning space. For now, in campus, online.
Your daughters are the heart and joy of Assumption College. We want to make their online learning experience as enjoyable and productive as possible. As in anything new, there may be some discomfort or difficulty. If you have any concerns, please let us know. We will be listening.
We have set in place health and safety protocols that will protect the members of our community. I am sure everyone can see that we are practicing the safety protocols now.
We have also had to make some hard decisions.
These may not be the best of times, but we can make it so. Let us respond with increased Faith –To choose God above anything else. In especially challenging times, our Faith will sustain us and our hope. More than ever, believe that there is a higher Being watching out for us. This can be a great source of comfort as the uncertainty of the times goes on from month to month.
We also ask for the grace to navigate this new reality, step by step, based on all the information we have while at the same time keeping the Assumption mission in sight, to form servant leaders who are women of Faith and women of Action. It is by the grace of God that we can stay connected as
One Assumption Family.
Family means something really special to me. Family members learn together, laugh, fight and cry together, endure difficulties and pain, celebrate joys and accomplishments together. We are strong because we choose to look out for each other and genuinely care for one another.
As we celebrate St. Marie Eugenie's birthday, may we all Embrace new life and be a gift to others. Remember, during these uncertain times, IN God, we are empowered to live in hope and unity amidst diversity. WITH God, we are one ASSUMPTION Family journeying with Faith and Grace in Adversity.
Thank you and Good morning!
---
References:
Venzon, C. (2020, August 6). "Philippines plunges into recession as economy shrinks 16.5% in Q2". Nikkei Asian Review. https://asia.nikkei.com/Economy/Philippines-plunges-into-recession-as-economy-shrinks-16.5-in-Q2
Social Weather Stations. (2020, June 18). "SWS May 4-10, 2020 Covid-19 Mobile Phone Survey – Report No. 11: 83% of Filipinos got worse off in the past 12 months – the worst trend in survey history". https://www.sws.org.ph/swsmain/artcldisppage/?artcsyscode=ART-20200618084031
Editorial, President's Corner
About AC Henry Sy Sr. Hall The Henry Sy Sr. Hall is comprised of state-of-the-art facilities in a five-story building. It includes the Paradiso Exhibit Hall; Pamana Museum; Liwanag Innovation Center; Pardo Theater; Biyaya Gathering Hall; Chinshi Contemplation Garden;...
A personal message from former president Dr. Carmen Valdes | Today, May 31, 2020, is the last day of my term as president of Assumption College San Lorenzo. It has been my honor and privilege to have served you in the best way I knew how.
Editorial Statement on Extra Judicial Killings | We have seen in the past six weeks a laser-like focus on the need to rid the country of the scourge of drug addiction. We know the pernicious effect of drugs – on the individual, on the family, on the community and on the country as a whole.
Editorial statement on former President Ferdinand Marcos' 'Hero Burial' | I believe that every person no matter what they have or have not done in their lives deserves respect even in death. However, to be buried at Libingan ng mga Bayani affirms that those buried there were indeed heroes. And there's the rub.
An article from peopleasia.ph | "People always say that I'm outside the box. I'm very innovative, I'm very creative, I want to move things forward, I want to break the walls of Assumption, I want to be much more holistic … Let's put it this way; I want to embrace and expand what Assumption San Lorenzo does," Pinky shares.
An article from lifestyle.inquirer.net | Dr. Carmen Lourdes "Pinky' Valdes, a former nun, is AC's ninth president and the first lay leader to steer the nearly 60-year-old education institution known for producing alumnae who blaze trails in government service, the arts and business.
Published on opinion.inquirer.net by Rina Jimenez-David | The "Parliament of the Streets," the series of protests, marches, organizing meetings, symposia, even fashion shows, concerts and comedy acts that marked the post-Ninoy Aquino assassination period, will always be remembered as the political "coming out" of the Filipino middle class.
Featured at Philippine Daily Inquirer (World Section) | Assumption College's new president, Dr. Carmen "Pinky" Valdes, wants to lead the youth by understanding their language and deconstructing their link to social media.
Judgment is not the intent here, but simply to ask for respect for the historical facts and the will of the Filipino People clearly demonstrated in the People Power Revolution of 1986.
St. Marie Eugenie, our foundress, grew up in a revolutionary society very similar to ours. She was convinced that only education can bring people to transform themselves and society.
Feature at People Asia | All her life, Pinky has had a unique way of looking at the world. "I believe life is much better than people think," she explains. "I always like to look at the whole picture because you'll see that there is more positive than negative."
As we mourn the deaeth of Kian, we mourn with cries for due process and justice in our country. In the face of such injustice, we join our voices with our colleagues in many academic institutions who stand by the truth: "we are our brother's keeper."
To students I say: be a "Horatio" for each other. See the nobility in the heart of your classmate and in your teachers and parents, too. To teachers I say, it is our call to see beyond the "shell" of fear and confusion in our students; and with tenderness, nurture the nobility in every student's heart.
We, as a school, are dedicated to the developmenet of the young – we should always speak and stand for the rights of the children and pre-teens. Be their voice wherever you are.
Keep this in mind the next time you are about to repeat a rumor or spread gossip. "Take a moment to filter what you're going to say. The first filter is Truth; the second is Goodness, and the third is Usefulness."
On my way out, after I received his gift, I was ready to step out already when he held my arm and said, "Wait. Please let me give you a special blessing. I want you to know I am with you as you face trials in your ministry in your diocese."
Admission Contact Information Graduate School and College Admissions Telefax: (632) 8817-7773 Direct Line: (632) 8810-5083 Trunkline: (632) 8817-0757 loc. 2050 Mobile: 0927.966.2341 / 0926.728.0980 Email Address: cmar@assumption.edu.ph Home Action Now President's...
Admission Download Forms These are the available forms for download. Grad School Application Form Grad School Recommendation Form (2 Copies) PDF Applications for printing and submission to: College and Graduate School Admissions Office Assumption College, San Lorenzo,...
Admission Test Schedules Test Schedules for School Year 2020-2021 Assumption College Admission Test for Graduate School is temporarily waived Home Action Now AC Campus Online Learning at AC About AC Basic Education Senior High College Graduate School CASA Psych...
Admission Admission Requirements The following documents shall be secured by the admissions office prior to enrollment. These documents shall be endorsed to the records office with an accompanying signed receipt at an appointed time:   Original PSA birth certificate...
Admission Application Requirements Any qualified individual with a bachelor's degree from a college or university may apply for Admission to the Graduate School. The original transcript of records from the university/college graduated from is required. Applicants...
Admissions > Grad School How to apply APPLICATION PROCEDURE 1. Graduate School Entrance Exam is waived until further notice. 2. Accomplish application form and two reference forms (click here for the forms) 3. Submit a scanned copy of Transcript of Records, Resume,...
Admission Welcome Dear Applicant, Thank you for considering Assumption College for your graduate studies. I am certain that you will realize many, if not all, of your potentials during your stay with us. The Graduate School is open to women and men and carries a proud...
Admissions Contact Information College Admissions Telefax: (632) 8817-7773 Direct Line: (632) 8810-5083 Trunkline: (632) 8817-0757 loc. 2050 Mobile: 0927-966-2341/ 0926-728-0980 Email Address: admissions@assumption.edu.ph   Facebook Account Name: Assumption College...
Admissions Application School Year 2020-2021 October 2019 October 5 October 12 October 19 October 26 Time: 8:00 am November 2019 November 16 November 23 Time: 8:00 am Home President's Corner About Us Basic Education College Graduate School METTA iNAy CASA Henry Sy Sr....
Admissions Download Forms Apply online here | Application requirements | Admissions Requirements | Contact These are the available forms for download. For Incoming Freshman: • AC Student Privacy Notice and Consent Form • Application Form • Guidance Counselor...
Admissions Application School Year 2020-2021 October 2019 October 5 October 12 October 19 October 26 Time: 8:00 am November 2019 November 16 November 23 Time: 8:00 am Home President's Corner About Us Basic Education College Graduate School METTA iNAy CASA Henry Sy Sr....
Admissions > College Admissions Requirements Apply online here | Application requirements | Downloadable Forms | Contact The following documents shall be secured by the admissions office prior to enrollment. These documents shall be endorsed to the records office with...
Admissions > College Application Requirements Apply online here | Admissions Requirements | Downloadable Forms | Contact Application Form All applicants must complete the online application which may be obtained from this link, https://bit.ly/AC_CollegeOnlineApp,...
Admissions > College How to Apply Click here to apply online           Assumption College, San Lorenzo Drive San Lorenzo Village, Makati City 1223 Trunkline: (632)8817-0757 For Admissions Inquiry Pre-school to Senior High School Admissions Office Direct...
Admissions Welcome Apply online here | Application requirements | Admissions Requirements | Downloadable Forms | Contact [button...
In order to ensure the total development of Assumption students, the College provides and implements student personnel services which promote growth of persons-in-community, develop leaders, and foster an environment of mutual trust and respect, concern and freedom in the campus.
The Guidance Program aims to serve the needs of individual students in terms of holistic growth and development. It is designated to assist the student in adapting to life challenges, decision making and developing a sense of service so that in turn, she may contribute to the growth and development of others in the community in which she lives.
Complementing the Academic Program are different programs for students coordinated by the Office of Student Affairs. These cover both extracurricular activities through the Assumption Student Council and Student Organizations as well as co-curricular activities which are coordinated with Department Chairpersons.
The Assumption Student Council (ASC) is the official student government of the Assumption College. It is an autonomous body, and the unified and democratic representative of the student body. The ASC is composed of the Assumption Executive Council (the President, Internal Vice-President, External Vice218 assumption college President, Organizational Vice-President), committee heads (Legal Committee Head, Finance Committee Head, Information Committee Head), Year Level Representatives, and the year block representatives.
The STUDENT ORGANIZATIONS AND ASSOCIATIONS are learning extensions, venues for practical application of theories learned in the classroom. They are not only co-curricular in nature but are oriented towards service to the school and the bigger society.
The Higher Education Division offers the field of Athletic Varsity Team which opens doors to students who exhibit their unique excellence through sports. The College division has a total of seven (7) varsity teams namely Badminton, Basketball, Futsal, Pep Squad, Swimming, Table Tennis, Taekwondo, and Volleyball.
The Center for Social Involvement (CSI) was established in 1975 as a center for Assumption students seeking a more meaningful and relevant education. THE CENTER for SOCIAL INVOLVEMENT aims to: Conceptualize, propose, and implement programs for the development of the social awareness, commitment and action of the school community.
The FSF Center envisions a community of unique persons empowered by and delighting in a spiritual adventure with God.
Learning Resource Center: Library Hours, Users and Rules. Clinic: Medical Services for Students and Dental Services for Students.
Meals and snacks are available for sale in the Commons (canteen) and food booths located at strategic places. They are open to accommodate the students during their recess and lunch breaks during school days.
The Milleret Bookstore is open on weekdays from 7:30 a.m. to 4:00 p.m. The School community may purchase books, uniforms, and school/office supplies during these store hours.
Contact Details:
8817.0757 loc. 1057 or 8817.4856/8817.7893
Payment can be made thru Cash, checks & credit card. We accept all major credit cards except Amexco & Diners Card.
The Assumption College dormitory is a housing facility for students. A student's admission into the College Dormitory means that she observes the policies and rules. The Dormitory Administrative Team reserves the right to institute sanctions, or separation from the dormitory. Students assume the responsibility of abiding by the guidelines set in the Dormitory Handbook.
The school offers dynamic interdisciplinary educational programs that combine a strong business and management education core with professional courses, general education, leadership and entrepreneurship to develop well-balanced and competent business professionals.
The Marie Eugenie School for Innovative Learning is a progressive concept in tertiary education, conceptualized for the purpose of harnessing the qualities that create highly skilled educators, communicators, psychologists, interior designers and practitioners in the performing arts as trailblazing leaders.