Action Now > Social Responsibility
Assumption donated to Correctional Institution for Women
August 2016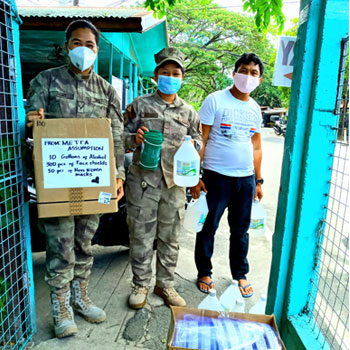 Assumption College donated to Correctional Institution for Women (CIW) 300 pcs face shields, 50 pcs non-woven face mask, and 10 gallons of alcohol. During these times of uncertainty, let us continue to reach out to those who might be affected by the virus and those who do not have medical access to get well.
Assumption College, through Metta and iNay, reaches out to the prisoners of Correctional Institution for Women (CIW) & Bureau of Corrections (BUCOR) by providing them theater classes that nurtured their artistic skills, self-awareness,
and wellness.
iNayMetta: I am mother and Metta is my spirit. You are mother, and loving kindness is your spirit. We are mothers, and loving kindness is our spirit.
Action Now, Social Responsibility
A personal message from former president Dr. Carmen Valdes | Today, May 31, 2020, is the last day of my term as president of Assumption College San Lorenzo. It has been my honor and privilege to have served you in the best way I knew how.